To know what are our current availabilities for the service in the different areas, please call us at 514-284-9335. A Meals-on-Wheels coordinator will give you more information. View delivery areas.
Are you or someone you know living with a loss of autonomy? Are you a senior having trouble accessing healthy food? Would you like to take part in a vibrant intergenerational community? Our meals-on-wheels service may be right for you! We deliver hot, nutritious meal to your door up to 5 days a week in several neighbourhoods in Montreal.
Click Here for Referral Information For Health Care Professionals
2023 Meals Calendar
Meal Delivery Service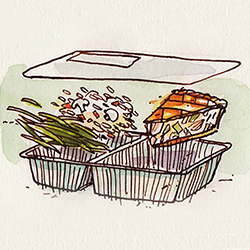 Meal
Healthy and delicious meals are adapted to your special needs and unique preferences. We cook with fresh, local vegetables and organic meats! Consult the meal calendar for more details.
---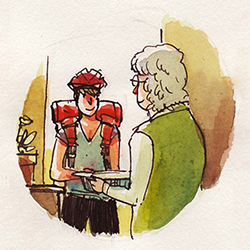 Delivery
Meals are delivered to your door by volunteers 5 days a week, Monday through Saturday (except for Thursday). They arrive at the end of the afternoon to be enjoyed at suppertime.

---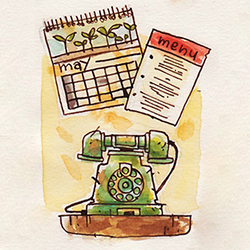 Billing
Our meals are subsidized at 50%, the cost to clients is $6.00/meal. For clients with financial constraints, a cost of $4.50 is available. Billing is monthly, and can be payed by cheque, c.c. or electronic transfer.
---
Eligibility Criteria
1
Do you live in our delivery area? We deliver to eight neighbourhoods in Montreal: please consult the map below. If not, find a resource near you!

---
2
Are you living with a loss of autonomy? Loss of autonomy includes situations such as reduced mobility, cognitive loss, ageing, or convalescence.

---
3
You will need a referral from a health care professional. If you are interested in receiving our meals, tell your doctor, social worker, or nurse and have them contact us.

---
Our delivery zones
Enter your address in French to check if it located within one of our delivery routes.
There might be a delay between the moment your healthcare professional refers you to our service and our team contacts you. We will call you directly to discuss your needs!
---
MORE THAN A MEAL
As soon as you receive your first meal, you are welcomed as a member of the Roulant. If you wish, you can take an active role in our community by:
Attending an intergenerational social event
Joining a gardening project
Attending our Annual General Meeting
Leading or participating in a cooking workshop
You are warmly invited to take part in these optional activities!
Get in Touch for More Details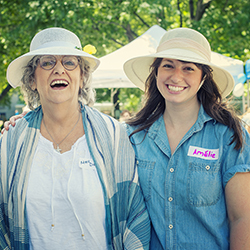 Our Clients' Words
I just wanted to call and say thank you for making me a special meal today. I was sick last week and my doctor told me I should stick to boiled potatoes! You adapted to my restrictions, but it tasted good! Thank you so much for being so accommodating!Mrs McGimpsey, client
Hey there, good morning! Thank you for the wonderful dinners we've been getting, the cookies and the cards, we love you all, couldn't do without you.Mr Hooja, client