The staff has the responsibility of running the day-to-day operations and ensuring that the directives and priorities identified by our members are undertaken in a meaningful way. Our team represents a mix of part-time and full-time staff with different backgrounds, ages, and interests.
Everyone is a gift – first of our 9 core principles of engagement – and possess a profound desire to work towards social change in meaningful ways. Many of us started as volunteers here at the Roulant!
To view: Agriculture / Fundraising / IT Systems / Kitchen / Meals-on-Wheels / Volunteer Coordinators / Admin
Photos by: Alex Tran, Sandrine Corbeil, Catherine Johnston and JF Veilleux
---
AGRICULTURE
The Roulant's agriculture program aims to build a food system that is healthy, just, and sustainable. Our agriculture projects are designed to support local and organic agriculture while ensuring that the fruits of our labours remain accessible to all regardless of socio-economic status, level of mobility, or degree of autonomy.
---
---
---
---
---
FUNDRAISING
The fundraising team plans our main fundraising events, fundraising activities, manage our second floor rental, bring alive our sponsorship and corporate partnership strategy and more!
---
---
---
---
IT SYSTEMS
The IT team provides technical support to the Roulant and improves our services.
---
---
KITCHEN
The kitchen team prepares, develops, and packages healthy nutritious meals every day for our Meals-on-Wheels clients with the help of volunteers.
---
---
---
---
---
---
MEALS-ON-WHEELS
Our Meals-on-Wheels program is at the heart of the organization and is the core around which Santropol Roulant was built back in 1995. It responds to the increasing need for greater food security among the elderly, but also to the shared desire, as manifested by our volunteers, to build a rich and healthy social fabric.
---
---
---
---
---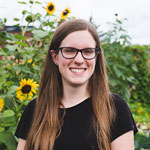 Ellen Fowler
Volunteer Program Coordinator
I have been a neighbour and a great admirer of the Roulant ever since I moved to Montreal and I am thrilled to become part of its team. Having worked with newcomers for many years, I am drawn to the Roulant's mission to create an inclusive community in which people of all ages and walks of life are given the chance to support and nourish one another. I so look forward to getting to know all of the volunteers who work to build and strengthen this community every day. Come say hi!
---
ADMIN
The admin team supports the Roulant's other duties and responsibilities through a variety of tasks related to organization and communication to ensure efficient operation of the office.
---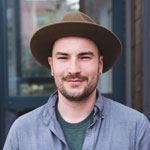 Jamiey Kelly
Director of Human Resources and Operations
Originally from British Columbia, I was drawn to Montreal to explore its culture and renowned collectivism, and I got more than I was bargaining for! Having worked in social and environmental justice for the past few years in and around Concordia University, I grew fond of non-profit work because it so often centers on people, both in the communities we serve, and in providing a place for staff and volunteers to learn and to grow together. The Roulant inspired me because our mission aligns with my own values. How cool is intergenerational community? My professional aspirations focus on bringing strong HR practice to the Roulant while preserving the incredible organizational culture that thrives here.

---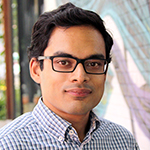 Nazmus Syed
Services Coordinator
I first learned of the Roulant during a group volunteering session in 2012 and have loved it ever since. I've volunteered mostly on meal deliveries until joining the Fruits défendus collective in 2015, which I continue to be a part of. These two opportunities gave me a way to learn about the challenges of food security and at the same time help to make a difference. In coordinating the market, I am excited to take on the challenge of making local, organic food accessible to people across Montreal and supporting our local producers.
---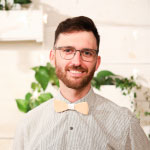 Jean-François Veilleux
Communications Coordinator
Proud Rosepatrien, I'm a run commuter, cyclist and ultramarathoner active in my community. I have been campaigning for the fight against climate change and to break the social isolation of my fellow citizens for several years. I discovered the Roulant while doing a case study on social businesses and the mission and core values really struck a chord with me. I'm a Google docs ninja and I'm always trying to decrypt the new secrets of the different social media platforms. I wish to see an ecological transition that is fair in the next few years.
---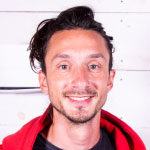 Pier Liné
Executive Director
Being the tall shoot on the staff team, and with my European accent, I'm easy to pick out in a crowd. In pursuit of cross-pollination, I buzzed my way throughout a few cities before settling down in Montreal, a place that grabbed me by the heart strings some time ago. Whereas at the Roulant some cultivate recipes in the kitchen or vegetables in the garden, my role centers around the faces of the Roulant and the various cogs and gears that turn in the background. I'm happy as a worker bee in the community hive that is the Roulant, and if the Roulant were a vegetable, I'd eat it at every meal! I especially love community initiatives, urban chickens, seniors and hugs… and of course, above all else, I love the Roulant (have I mentioned that already? no? yes? yes!), a place that allows us to add new feathers to our hat each and every day.