Adapting our services
SantroVélo is currently closed.
However, we have been working hard to adapt our services so that we can still help you.
We want your feedback on some of the efforts and ideas we have been working on so we can get a good read on how we can best serve you:
And if at any time you need immediate assistance, please email us at benevelo@santropolroulant.org with a description of your issue and we will try to help you one-on-one over video chat.

---
Hours:
Closed
Santrovélo is a do-it-yourself community bike shop associated with and supported by Santropol Roulant. Our mission is to empower community members and promote active transportation, cycling safety and eco-sustainability through bike repair. Our volunteer mechanics provide knowledge and access to tools in an enthusiastic, respectful and inclusive safe-space.
SantroVélo is a place of learning, so we won't fix your bike for you like at a regular bike shop. Instead, the volunteers will teach, guide and support you as you learn to fix your bike and use the tools yourself.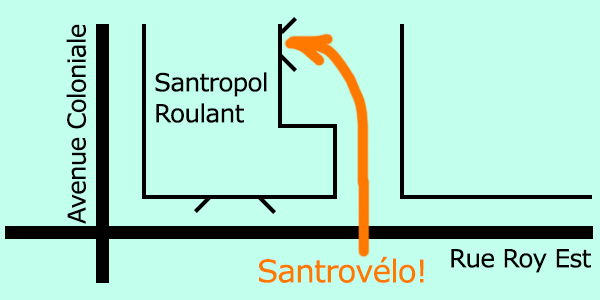 The entrance to our workshop is located in Santropol Roulant's alley. Come and visit us!
---
Join the collective!
We are recruiting new volunteers for many roles such as core operations as well as in-shop client support roles. We regularly run new orientation sessions – please sign up here and we'll see you at the shop very soon!
Come join us!
---
Membership Fees & Prices
Per visit
Perfect for once or twice a year.
$5
Our per-visit fees are not exchangeable for annual memberships; each payment of $5 is considered individual and non-cumulative.
Per Year
Become a member!
$15
Santrovélo has both used and new bike parts for sale to help you put your bike in good working order. New parts are usually sold at the suggested retail price, while used parts are sold on a sliding scale depending both on the quality of the part and the person's capacity to pay. Note that for the shop use fee and for used parts, no one will be turned away due to lack of funds.
Women, Trans*, Femme Day
On the last Saturday of each month we host a Women Trans* Femme (WTF) day. First part from 1 – 2:30 p.m. is a focused workshop and the rest, 2:30 – 4 p.m., is for working on your own bike with help from our volunteers.
We welcome people who identify as female, transgender, non-binary, two-spirited, agender, femme, genderqueer, trans-masculine, trans-feminine or feel that their socialization or treatment as a woman, transperson, femme &/or person of marginalized gender has impeded their participation in bicycle mechanics. If you self-identify as such you are invited to come work on your bike, lend a hand or just hang out in a safe, gender positive space.
Workshops
We did 2 winter cycling workshops in November. We have more coming in 2020!
Follow our Facebook page for info on dates and times: facebook.com/SantroVelo

---
"Do You Sell … ?"
YES WE DO
: big variety of
used parts
, cables, wheels, tubes (various sizes), various models of brake pads, bottom brackets, brake levers, bearings, cable housing, cassettes, chains, seat posts, spokes, tires (no winter), reflectors, bells, tube repair kits, tire levers, bar tape
NO WE DON'T: helmets, locks, lubricants, tools, new bicycles, new frames, disc brakes, baskets, bottles, gloves and other accessories, pumps, winter tires

Bike Donations
Got a bike sitting in your garage or on your balcony that you don't know what to do with? Why not donate it to a good cause! Santrovélo is always looking for used bikes that can be stripped for parts, fixed up for sale, or put in working order to be used by our meals on wheels, agriculture and fruit harvesting teams.
Contact us by email at benevelo[at]santropolroulant[dot]org
or at 514-284-9335 for more information about whether we can take your bike and when to drop it off.
---
Keep in touch!
---
---