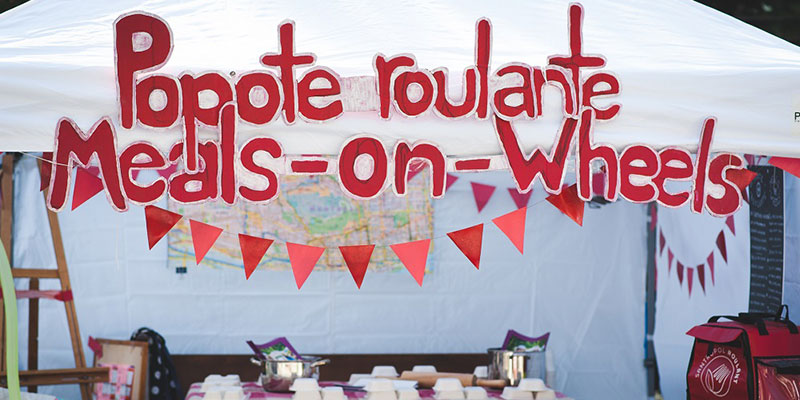 Our Meals-on-Wheels program is at the heart of the organization and is the core around which Santropol Roulant was built back in 1995. It responds to the increasing need for greater food security among the elderly, but also to the shared desire, as manifested by our
volunteers
, to build a rich and healthy social fabric.
The Roulant's Meals-on-Wheels program has actively worked with young people since its inception. Despite the evolving nature of the organization, we have kept the founders' vision alive, and continue to bring together two segments of the population who do not necessarily cross paths regularly in everyday society – youth and seniors – in order to build an intergenerational community. It is thanks to delivery of meals to individuals living with a loss of autonomy that young people and elders are given a unique opportunity to meet and build relationships. These relationships strengthen not just our community, but also an entire future generation.
---
---
---
Every day, our meals-on-wheels service…
---
---
From kitchen to community
5 days a week, 52 weeks a year, volunteers prepare and deliver meals to folks living with a loss of autonomy
in Montreal
. Here's a look at a typical day in the Meals-on-Wheels program.
Meal Preparation in the Morning
Volunteers arrive in the kitchen ready to prepare the meal of the day. They work with a chef to bring together all of the elements of the main dish and side dishes, using 100% organic meat and vegetables from our own gardens and farm during the summer.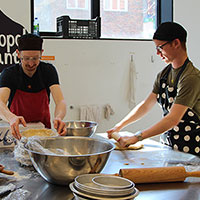 ---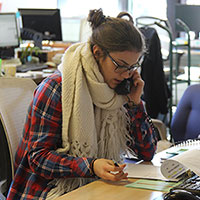 Meanwhile in the office
Clients call in to chat or check what the dessert is while we compile a list including the number of meals and dietary preferences. We can then be sure to accommodate meal restrictions that apply to the menu that day (vegetarian, gluten free, no peas etc).
---
Afternoon packaging in the kitchen
A new team of volunteers get their aprons and hats on, ready for the afternoon packaging shift. Food that has been kept hot in our warming oven is portioned into individual compostable containers, ready for delivery!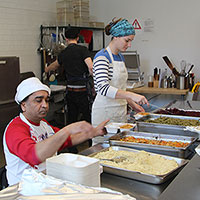 ---
Meal Deliveries
Volunteers arrive ready to pack their thermal backpacks and deliver meals by foot, bike or car. They deliver a warm meal and a smiling greeting that can help boost our clients' feeling of safety and contribute to breaking down social isolation.

---
closing the food loop
Finally, fruit and vegetable scraps accumulated throughout the day are taken out to the compost. Red wiggler worms living in our basement wigwams will be fed and any extra scraps will be taken out to the farm to become rich fertilizer for next season's crops.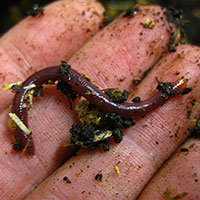 ---
Related Publications
Consult All Our Publications