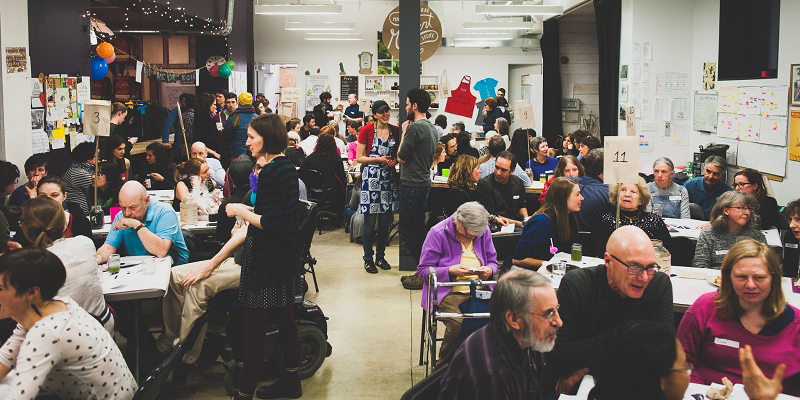 Just like the plants that we grow on rooftops and the volunteers that sustain our activities, Santropol Roulant itself is a dynamic and living entity, an intergenerational community, a beautiful mosaic of people of all ages and cultures, all brought together by food and community engagement.
Santropol Roulant's Members
The following are the different types of members at the Roulant, who elect members to our Board of Directors. You are a member if you are a:
Client
Anyone who received a meal in the past year.
Volunteer
Anyone who volunteered in the past year.
Donor
Anyone who contributed financially in the past year.
Staff
Anyone who has been an intern or employee in the past year.
Partner
Any partner organization that has collaborated with the Roulant in the past year.
---
Governance at the Roulant
Santropol Roulant is a membership-based organization. As an organization that sees people as gifts, we naturally believe that our closest stakeholders and participants should have a say in how we operate. At our Annual General Meeting, these members play the vital role of electing the nine members of our Board of Directors, the latter being the ultimate guarantors of objects and policies of the Roulant.
To illustrate our democratic process, here is a quote from Campbell Stuart, one of the instigators of our current democratic structure.
"In 2004 the Roulant became a Membership organization. The virtues of this model are apparent all around us. Our Members – composed of all current volunteers, clients, employees and donors – have assumed responsibility for the well-being of the organization and the faithful execution of its mission. As Members, they are consulted on major issues, elect the board in lively contested elections, and run for election themselves in large numbers.
Best of all, there are always more candidates for the board than there are vacancies. Every year we hear out the candidates and chose the ones whose vision and energy are best for our community. At first glance, competitive elections may seem at odds with our collaborative ethos, but appearances deceive. Our candidates, winners and losers, together create the conditions for enlightened choice and, as we always remind ourselves after the ballots are counted, it is those who have run and lost who have contributed the most."
Without them we have no real elections, no vigorous debate, and no renewal.
---
Words from our community
First you answer a necessity – food – in all of its ramifications. But even much more, you tell us in loud action that young people are good and caring human beings.Susie Raphals, client, donor and friend
The Roulant is a wonderful organization and a true pace-setter for sustainable food production and the caring of a community linking the youth and the elderly in the inner city.Ann McAllister, volunteer
Santropol Roulant is my favorite organization in Montreal, and dare I say, the world. It is, to me, what the future looks like.Dr. Alex Nataros, volunteer and ex-administrator
To be a part of an organization that contributes so much to the Montréal community, both young and old, has been tremendous. Thank you for always making volunteering an enjoyable experience.Kate Krivy, Meals-on-Wheels Volunteer