We work closely with healthcare professionals who refer our Meals-on-Wheels clients. To improve communication between them and our future clients, we have developed a few useful tools.
Presentation flyer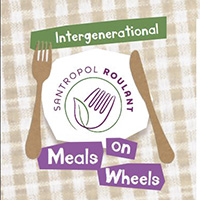 Originally created for healthcare professionals, this flyer can easily be handed out to potential clients during the evaluation visit to provide more information about our services.
It includes all the details about our Meals-on-Wheels service, our contact information and the steps to refer a client: Santropol Roulant bilangual presentation flyer
TIPS!
When creating a pamphlet aimed at the elderly, here are a few tips to lighten the load:
Be precise and concise;
Craft a message that is easy to understand;
Use everyday language;
Put emphasis on action!
---
Clients welcome kit
Every new client receives this information with their first meal delivery:
Reference form
Since the Mise au point project, we have developed an online reference form to facilitate the work of our healthcare professionals.
Please note that we still accept phone references.
To know more about our Meals-on-Wheels service, click here
Ready to do a referral? Consult the web page "make a reference" designed for you.
Make a reference