Time is running out to get your farm baskets!
With only two weeks to go before the first pick-up, there are still spaces left to get your organic farm baskets. Sign-up today to get a weekly or bi-monthly basket all throughout the summer for 21 weeks. It all starts on June 14th and it's a great way to eat local, support the Roulant's work in food security and offer affordable baskets to others.
Contest!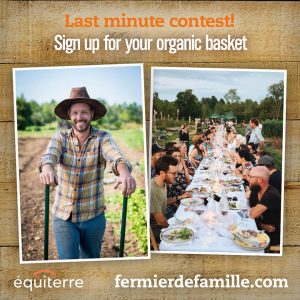 Reserve your summer organic basket before June 17 for the chance to win a dining experience for two at the Ferme des Quatre-Temps, served by Manitoba Restaurant.
A contest offered by Equiterre as part of the Family Farmers network, to which we belong to. For more info visit: https://www.fermierdefamille.com/en/