Always an exciting time to welcome new faces to the team,  and we couldn't be more happy to bring on board Virginie and Maya!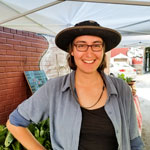 Virginie joins our team as the Farm Apprentice in Senneville. She will be working closely with our farming team for the next couple of months, and has a repertoire of knowledge in the field. Virginie is from Québec, but found her passion for organic gardening in British Columbia, where she spent a summer learning about intensive small-scale agriculture. We can't wait to see what she brings to the farm.
---
---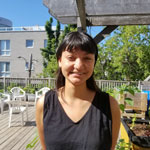 Maya joins our team as the new Urban Agriculture Intern. She will be joining Marie-Anne and Tali in the rooftop gardens and Terrasse Roy for the summer, cultivating and embellishing the community. Maya is deeply passionate about the possibilities food has as a vehicle of wellness, such as bringing people together, education, a way to express ourselves, and many other factors. Glad to have you at the Roulant!