We are happy to bring you our eleventh recipe in the series Recipes from the Roulant! These monthly recipes allow you to get to know the different activities of our organization.
This recipe for pumpkin coffee cake is a great way to make use of the many pumpkins donated to us for last week's Masked Pumpkin Gala.
If you didn't get a chance to join the rest of the community at the Gala, we hope to see you at the volunteer appreciation party on November 23rd. All former, current, and future volunteers are welcome to come celebrate while enjoying a slice of pumpkin coffee cake!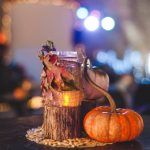 Pumpkin Coffee Cake
Cook Time
1
hour
10
minutes
Total Time
1
hour
45
minutes
Ingredients
Streusel
1/2

cup (105 g)

lightly packed brown sugar

1/2

cup (75 g)

unbleached all-purpose flour

1/2

cup (50 g)

toasted pecans, coarsely chopped

2

tsp (10 ml)

ground cinnamon

1/2

tsp (2.5 ml)

salt

1/3

cup (74 g)

unsalted butter, softened
Cake
2

cups (300 g)

unbleached all-purpose flour

1 1/2

tsp (7.5 ml)

baking powder

1/2

tsp (2.5 ml)

baking soda

1/2

cup (115 g)

unsalted butter, softened

1 1/4

cup (265 g)

lightly packed brown sugar

2

egg

1/2

cup (125 ml)

milk

1 1/2

cups (375 ml)

cooked pumpkin, coarsely mashed with a fork

(See note)
Instructions
Streusel
With the rack in the middle position, preheat the over to 350ºF (180 ºC). Generously butter a bundt pan.

In a bowl combine all the dry ingredients. Stir in the butter and use your fingers to combine until crumbly. Set aside.
Cake
In another bowl, combine the flour, baking powder, and baking soda.

In a large bowl, cream the butter and brown sugar with an electric mixer. Add the eggs and beat until smooth. Add the dry ingredients alternating with the milk. Using a spatula, stir in the pumpkin. Spoon half of the batter into the cake pan and sprinkle with half of the streusel. Repeat with the remaining batter and streusel.

Bake for 1 hour and 10 minutes or until a toothpick inserted into the centre of the cake comes out clean. Let cool on a wire rack. Run the blade of a knife between the cake and the pan and un-mould. Enjoy!
Recipe Notes
For 1/2 cups of coarsely mashed pumkin, roast a small cooking pumpkin, cut in half and seeded, cut side down, at 375ºF (190ºF) for about 45 minutes or until tender.