The moment we've all been waiting for… Basket season is finally upon us!
You still have a couple of days left to sign up for our locally grown organic vegetable baskets. Sign up before Sunday, June 17 to receive a weekly or bi-monthly basket all throughout the summer for 21 weeks! If you have already signed up, you can grab your basket tomorrow, June 14th at the first weekly farmer's market of the season on the Terrace Roy.
Contest!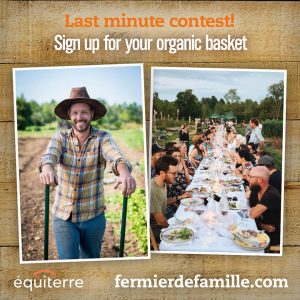 Reserve your summer organic basket before June 17 for the chance to win a dining experience for two at the Ferme des Quatre-Temps, served by Manitoba Restaurant.
A contest offered by Equiterre as part of the Family Farmers network, to which we belong to. For more info visit: https://www.fermierdefamille.com/en/