No Baskets for 2022!
The farm will decrease its vegetable production in order to increase its education mandate. The land will benefit from a well deserve rest in the company of green manure and flowers.
What's a CSA share?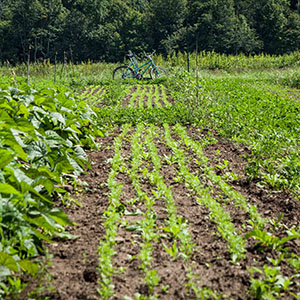 Community Supported Agriculture (CSA) is based on the mutually beneficial relationship between you and your farmer. By paying for your weekly share of the harvest at the beginning of the season, farmers can purchase seed, materials and provide a fair wage for their employees. In return, farmers commit to growing a diversity of certified organic vegetables for farm members!
Our solidarity model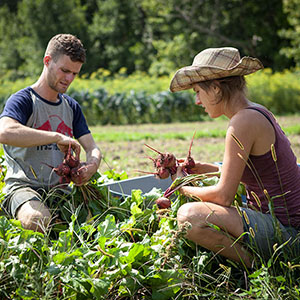 To increase accessibility to our CSA over different income brackets, we created a solidarity model. Farm members pay $ 9.00/ basket for their share and this surplus goes towards subsidized CSA shares for low-income individuals and families, and increased organic produce for our meal-on-wheels program.
A tax receipt will be made out for farm subscribers registered for the regular Baskets.

---
Santropol Roulant's farm is part of the Family Farmers Network, also called Le Réseau des Fermiers de Famille, which is a network of over 100 organic farms in Quebec. Together we support local, organic and sustainable agriculture that is rooted in the community and connected to its clients.
The vegetables in our basket are certified organic by Ecocert Canada and come almost exclusively from our farm in Senneville. The variety changes throughout the season, and baskets are always overflowing with freshness and diversity of produce.

---
Frequently asked questions