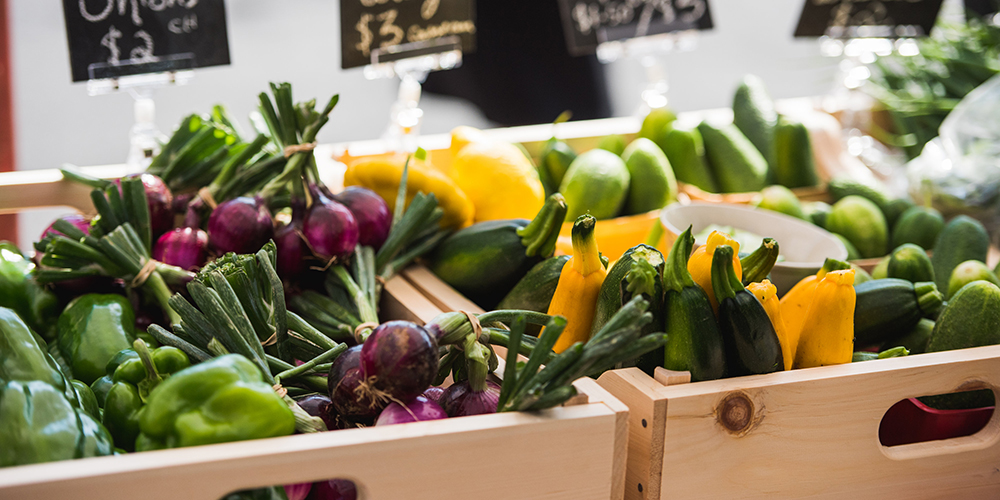 Basket signups for 2018 are now closed.

We grow certified organic vegetables for our organic baskets and meals-on-wheels service, right on our farm in Senneville. Signing up for baskets is a great way to receive a variety of fresh, seasonal produce, support local farms and sustainable practices, and be part of a vibrant community!

---
In the basket
The veggies in our basket are certified organic by Ecocert Canada and come almost exclusively from our farm in Senneville. The variety changes throughout the season, and baskets are always overflowing with freshness and diversity of produce. From time to time, we complement the basket with organic produce and fruit from other local farms in order to increase the variety.
This year, we have one basket size offered at $33.80 per week with the option of pick-up every week for 21 weeks, or every second week for 10 weeks.
Sample Basket #1
Arugula
Bok Choi
Green Onions
Kohlrabi
Lettuce
Radishs
Coriander
Sample Basket #9
Basil
Beans
Beets
Chard
Cucumbers
Eggplant
Mixed salad mix
Summer Squash – zucchini
Tomatoes
Cherry Tomatoes
Sample Basket #16
Beans
Garlic
Leeks
Parsley
Peppers
Potatoes
Spinach
Tomatoes
Cherry Tomatoes
---
What's included
21 weekly baskets or 10 baskets delivered every two weeks starting mid-June
Over 45 different freshly harvested certified organic vegetables, with over one hundred different varieties
Possibility to pause for one week, for vacations, and receive the basket in November
A weekly newsletter with updates from the farm, basket contents, and a recipe
The possibility of participating in workshops held at the farm and at Santropol Roulant
---

---
Pick up
When: Thursday from 4 pm – 7 pm, from June 14th – November 1st
Where: Outside of Santropol Roulant, 111 Roy East
Sizes and pricing
Weekly Basket
Feeds 2-4 people
Contains 8-12 items
Market value per basket: $25
Premium price per basket: $33.80
Total cost:
$710+ $18 Equiterre fee = $728
Option of paying in 3 installments of $242.67
Tax deductible contribution: $184
Every Two Week Basket
Feeds 1-2 people
Contains 8-12 items
Market value per basket: $25
Premium price per basket: $33.80
Total cost:
$338 + $18 Equiterre fee = $356
Option of paying in 3 instalments of $118.66
Tax deductible contribution: $88
---
SUBSIDIZED BASKET
Weekly Basket
Feeds 2-4 people
Contains 8-12 items
Total cost:
$320 + $18 Equiterre fee = $338.00
Option of paying in 6 installments of $56.33
EVERY TWO WEEK BASKET
Feeds 1-2 people
Contains 8-12 items
Total cost:
$148.50 + $18 Equiterre fee = $166.50
Option of paying in 6 instalments of $27.50

---
---
What's a CSA share?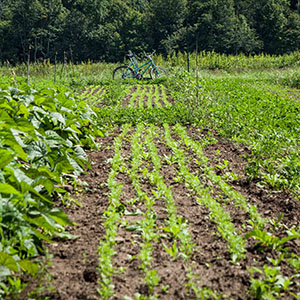 Community Supported Agriculture (CSA) is based on the mutually beneficial relationship between you and your farmer. By paying for your weekly share of the harvest at the beginning of the season, farmers can purchase seed, materials and provide a fair wage for their employees. In return, farmers commit to growing a diversity of certified organic vegetables for farm members!
Learn more about the CSA model or find other farms that feed your neighbourhood at Equiterre.
Our solidarity model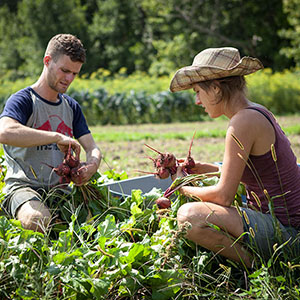 To increase accessibility to our CSA over different income brackets, we created a solidarity model. Farm members pay a little extra for their share and this surplus goes towards subsidized CSA shares for low-income individuals and families, specialized baskets for seniors, reduced market prices in under-served communities and increased organic produce for our meal-on-wheels program.
A tax receipt will be made out for farm members registered for the regular Baskets.

---
Register for a basket
---
Ready to place your order? Click the sign up button below to fill out the registration form! Once we have received your registration and payment, we will send an email confirmation along with a tax receipt if applicable.
Let us know if you would like to register for the subsidized basket by emailing us.

---
Sign up today!