For more than 25 years, Santropol Roulant's Meals-on-Wheels program has served warm meals to community members around Montreal facing a loss of autonomy or limited mobility. For close to 20 of those years, the areas served have stayed relatively the same.
Over the past year, the Roulant team has initiated a pilot project to increase our internal capacity and explore expanding our service to the much underserved neighborhood of Plateau Est (district of de Lorimier). Now, as we welcome our first clients to this project, we are excited to bring you news of the work that has been done and a glimpse of what lies ahead!
The district of de Lorimier in Plateau-Mont-Royal (PMR) spans from Papineau to Frontenac, and from Rachel to the train tracks to the north and is home to a growing aging population. In fact PMR has one of the highest rates of seniors living alone in Canada (57%, compared to the national average of 26%). Facing increasing financial challenges and a loss of autonomy associated with aging, this population is even more vulnerable to social isolation and food insecurity. Unfortunately, only a few food-security initiatives serve this area, putting these seniors at an even greater disadvantage.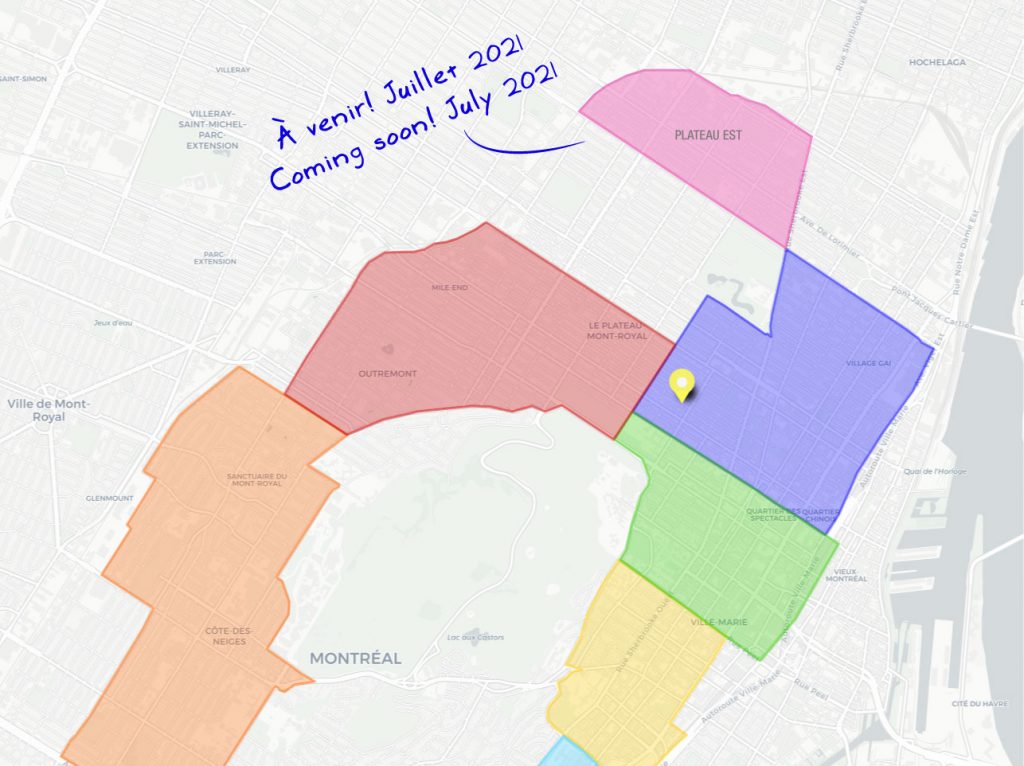 Our Meals-on-Wheels service is not just a meal delivery service. We use food to break social isolation and connect generations — during meal deliveries, through intergenerational client events (on pause) and through our unique approach to community care. An astounding number of volunteers support this work each day. They pour lots of love and attention into the preparation of meals that use fresh ingredients, including organic produce from our very own farm and gardens, and which respect our clients' individual dietary needs. Volunteers then package and deliver those warm meals on foot, bike or by car, 5-days a week, 52 weeks a year, rain, shine or snow, with caring smiles and warm words.
The push for the Roulant to expand eastward by a number of different groups has increased in recent years with the decrease of similar services in this sector. So, when developing our 2020-2023 Strategic Plan, we included the strategic objective of increasing the number of people served by the Meals-on-Wheels program. With the financial support received from the Plateau-Mont-Royal borough in 2020-2021, we were able to form a pilot project to evaluate our capacity to engage more volunteers and deliver meals to an additional neighbourhood in the Plateau est.
Our initial work in 2020 focused on increasing our internal capacity and improving our tools and systems. In fact, the global pandemic fast-tracked our move to embrace new digital technologies, which includes the current development of new volunteer scheduling tools and the use of virtual welcome sessions to bring on new volunteers on a regular basis, among other things.
This past spring, we shifted our focus outwards, and took the pulse of the Plateau Est neighbourhood. We spoke with representatives from the CLSC du Grand Plateau and to other food-security organizations and initiatives in the area. It became even more clear that no other service offers what we offer – warm meals and caring smiles delivered directly to the doors of those having trouble accessing healthy food due to a loss of autonomy.
Starting late June, we will pilot our service to this underserved neighbourhood – hopefully establishing a permanent route. This involves signing on new clients to the project and scheduling 1 to 2 more volunteers per day to deliver meals to this new delivery route (in addition to the 25+ volunteers a day already involved in the Meals-on-Wheels).
We couldn't do this without you. And so, we want to say thank you to our growing volunteer and donor communities who actually increased your support and engagement throughout the past 15 months. Our clients continue to feel the love, even from 2 meters apart! Likewise, we send our appreciation to our collaborators in the health care sector who have been working tirelessly to ensure our aging and vulnerable populations continue to be cared for. Your commitment to breaking isolation through good food has helped us further improve our services!
Should you have any questions related to this pilot project, please contact Brooke, Internal Consultant. Or for questions about our Meals-on-Wheels program, please contact Laura, Meals-on-Wheels Manager, or call 514-284-9335.
Sources:
Living Alone in Canada, Statistics Canada, Census of Population 2019
SENIORS LIVING ALONE, Table de concertation des aînés de l'île de Montréal (TCAÎM), 2020