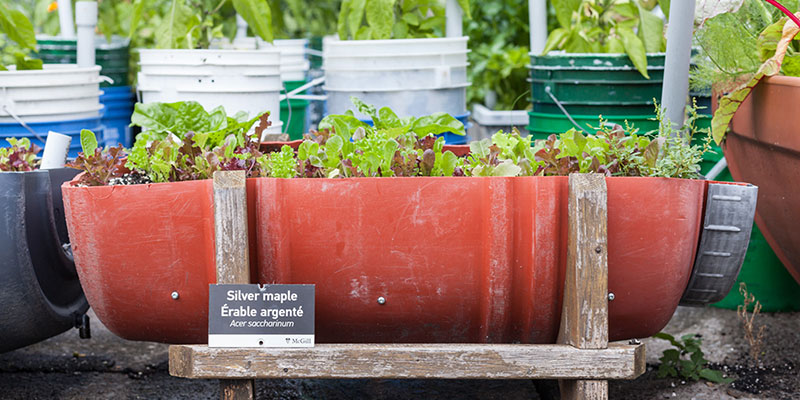 The McGill Gardens have been part of Santropol Roulant's urban agriculture program for over 10 years, and their use has evolved over time. For a while, they have supplied our farmer's market before fulfilling a vocation exclusively focused on education in the image of the entire urban farming program of the Roulant. Last year already, we announced some first transitional changes.
This year, we are taking a new step forward by transferring the facilities from McGill's food campus to the university's student community. The moment seems perfectly appropriate to transmit the inheritance of mature, fertile gardens, a development which is now completely part of the campus and the students' everyday life, as well as the contemporary history of urban agriculture in Montreal.
On the one hand, Santropol Roulant is ready to focus on the extensions of its gardens around our building, along with the addition of the elevator and the installation of the Roy terraces, and on the peri-urban farm in Senneville. On the other hand, several McGill student associations had expressed interest in taking charge of the campus gardens.
A new chapter begins
It's at McGill that we started growing for the first time in the ground rather than in bins. It is also at McGill that our place and our role in the urban agriculture field was affirmed, and became known for more than an artisanal Meal on Wheels. It was at McGill that we reached hundreds of students who became involved in all our programs, and met academics who helped us understand why our actions for social change were so successful, but most importantly, how we could inspire whole generations to come.
Thus, McGill offered us a field, a platform, an exhibition, and most of all, a community. Our ability to feed and inspire Montrealers has grown tenfold.
Our gratitude to all the partners and friends, who have helped us build all of this, is eternal.
---
Where is this garden located?
Adjacent to Burnside Hall, Sherbrooke St W, Montreal, QC H3A 0B9