To kick off 2017 in a tasty fashion, we're introducing a preserve of the month to get you even more excited about food preservation! Each month, we will offer a different preserve at a special price, and share the recipe for you to make it at home.
How does the preserve of the month work? On the first Wednesday of each month, we will announce the featured preserve, selected by our Food Preservation Coordinator. Come by the Roulant General Store to sample it, and either purchase it online or in person for $1 off the regular price. If you like, you can try out the recipe at home, which we will post online.
Join our 'preserve of the month' club for an even greater discount! Sign up in advance for the whole year to receive a jar of delicious Montreal-grown and made preserves each month for $90, with a value of $105. Purchase your membership in the online general store.
Why share our recipes? We want you to get excited about eating locally and help you gain the skills to do so! We sell preserves to support our programs, but food security and community remain our our overarching goals; we're all about sharing and strengthening the local food sector.
January preserve: Dilly carrots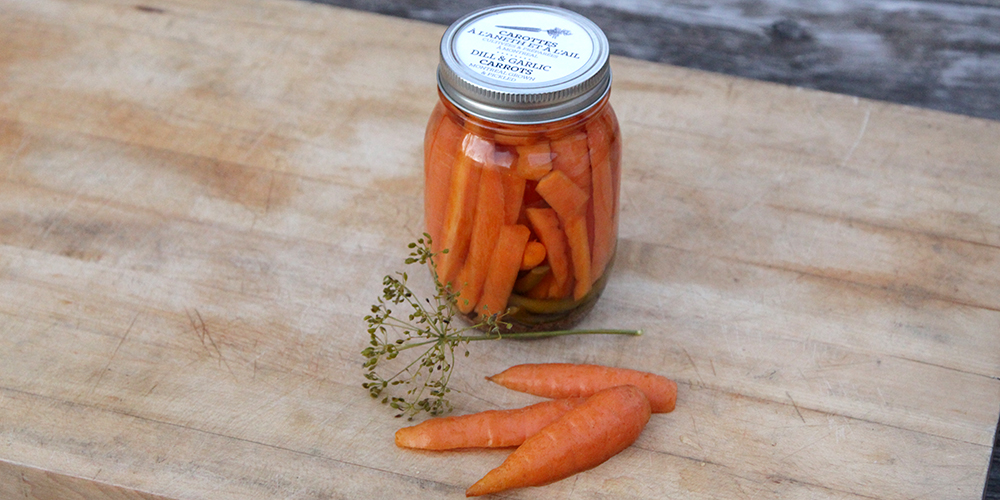 The first featured preserve is dilly carrots – they're delicious, crunchy, tangy and local. They're easy to love and easy to serve. Just crack open a jar and eat them as a snack. They're great at cocktail hour, or to stave off hunger as you put the final touches on a hearty meal. Pick up a jar so you're ready for your next low-key get-together.
Dilly carrots recipe
If you're a fan of pickles, try these brightly coloured pickled carrots. They make a great garnish to sandwiches and liven up relish trays.
Makes about 7 x 500 ml jars.
Ingredients
5 lb (2.3 kg) carrots (Nantaise carrots are particularly delicious)
4.5 cups (1125ml) white vinegar, 5% acidity
3.5 cups (875 ml) water
1/3 cup (125 ml) pickling salt
¾ cups white sugar
4 garlic cloves, peeled and halved
14 heads dill or 3 1/2 tsp (17 ml) dill seed
3 -1/2 tsp (17 ml) red pepper flakes, optional
2 tsp Pickle Crisp (calcium chloride), optional
Directions
Wash 7 jars and their lids, set aside. Set up your hot water bath and begin boiling your pot of water.
Wash, peel and remove ends from carrots. Cut into sticks about 3/4 to 1 inch (2 to 2.5 cm) less than jar height and about 3/4 inch (2 cm) thick.
Combine vinegar, water and pickling salt and sugar in a saucepan. Bring to a boil, stirring to dissolve salt.
Place 1/2 clove garlic, 1 head fresh dill or 1/2 tsp (2 ml) dill seed and 1/2 tsp (2 ml) crushed red pepper flakes and 1/8 tsp of Pickle Crisp, if using, in the bottom of each jar. Pack carrot sticks into jars ensuring that they are not present in the topmost 3/4 inch of the jar. Top with a second head of dill, if using. Place filled jars in a warm place to ensure that they will not crack when they are filled with hot brine.
Add hot brine to cover carrots to within 1/2 inch (1 cm) of top of jar (headspace). Using nonmetallic utensil, remove air bubbles and adjust headspace, if required, by adding more carrots and hot brine. Wipe jar rim removing any food residue. Centre hot sealing discs on clean jar rim.
Screw band down until resistance is met, then increase to fingertip tight. Set filled jars aside. Repeat for remaining carrots and hot brine, working relatively quickly to avoid excessive cooling.
When all jars are filled, place them inside a canner on a wire rack ensuring that all jars are covered by at least one inch (2.5 cm) of water. Cover canner and bring water to full rolling boil before starting to count processing time. At altitudes up to 1000 ft (305 m), process -boil filled jars – 10 minutes.
When processing time is complete, remove canner lid, wait 5 minutes, then remove jars without tilting and place them upright on a protected work surface. Cool upright, undisturbed 24 hours; DO NOT RETIGHTEN screw bands.
After cooling check jar seals. Sealed discs curve inward and do not move when pressed. Label and store jars in a cool, dark place. For best quality, use home canned foods within one year.
Adapted from Bernardin Home Canning: www.bernardin.ca/recipes