Join us in welcoming two new members to the team in the Meals on Wheels program and the kitchen!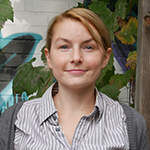 Martine joins our team as Client Management Intern. She provides support to the various aspects of the Roulant's Client Management program, through being a liaison between our many valued clients and the services we offer them. Martine has a background in social gerontology and intergenerational initiatives and sees the Roulant as an important bridge between different generations within the Montreal community.
---
---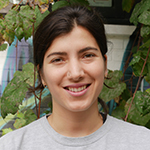 Sarah
joins our team as
Food Preservation Intern
. She provides support to the kitchen team, transforming produce from the farm and les Fruits défendus collective as well as facilitating workshops for volunteers. For the month of October she can be found at the
farmers' market
enthusiastically telling you about preserves at the Roulant.
---
---
Learn more about these and other members of our team on our Staff page.