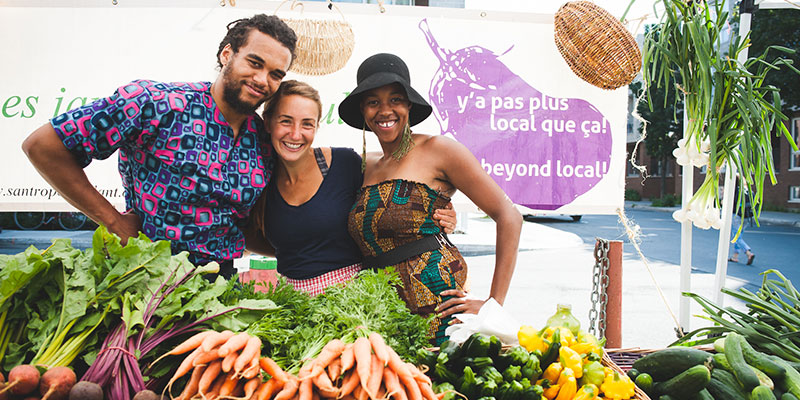 Santropol Roulant's Market
Opening hours 2017

June 20th to October 26th
Tues & Thurs 4-7 pm
111 rue Roy Est
In front of Santropol Roulant

Localized economies, healthier ecosystems, and communities are all related. That is why we collaborate with artisans and producers who use in large part ecological products made or harvested nearby. Depending on the day and time of the season, a variety of vendors will join us – have a look at the schedule for more info!
Tuesdays
Thursdays
The Santropol Roulant Farm

Pâtisserie Maru

L'Olivette

Jess's juice remedies

Spontaneously:

Preserves from Santropol Roulant's General Store

Les Fruits défendus Collective

The Beekeeping Collective

The Vermicompost Collective

The Santropol Roulant Farm

Breddy Boulangerie

Tara's Dumplings

Ruchers Apis

Blueberryjams

Jardins Mycorhize
Note that the schedule may change during the season.
We are also lucky to have as neighbors Fernando's Gibier and Volaille meat shop, where quality meats, including many organic options, can be found, as well as La Chilenita selling empanadas and other South American meals!
Healthy food is a right
Our farmer's market relies heavily on our mission as an organization to foster socio-economic inclusion, food security and community involvement of people affected by different forms of social exclusion and reduced mobility. If you have limited financial means, reduced prices will be available for products from the Santropol Roulant farm. Check out this page later on for more information.
2017 collaborators and vendors
The Santropol Roulant Farm: with over 100 varieties of organic vegetables, roots and fruits, new varieties for this year include watermelons, sweet potatoes, jerusalem artichokes, flowers and more! Grown with care and love in the West Island.
Breddy Boulangerie is an artisan bakery specializing in organic sourdough breads and other confections.
Tara's Dumplings are traditional Chinese dumplings, handmade in Montreal with carefully sourced ingredients such as organic produce and antibiotic and hormone-free Quebec pork.
The Noble Sprout is owned and operated by Sarah Daw-Girard, who grows a mix of sunflower sprouts, pea shoots, cilantro micro greens, and other tasty and nutritious microgreens including broccoli and arugula. There will be more selection as the season rolls onwards, seeing as she is just starting out!
Rucher Apis is a certified organic beekeeper – whether spring, clover or wild flowers, they offer you a raw, unpasteurized honey: from the hive to the pot at your table, it is as produced by the bees and does not undergo any alteration. Rucher Apis also produces candles, organic beeswax, and propolis.
Blueberryjams offers a variety of herbal remedies, crafted products, penned texts, and skill shares with a focus on do-it-yourself products and radical home economics through an emphasis on sustainability, creativity, and community. Everything made by hand, with heart in Montreal.
With Jardins Mycorhize, expect to find on the table less common products picked directly on the farm and in nature such as mushrooms and foraged vegetables. Their space is also a place of learning and sharing on alternative farming methods.
L'Olivette offers a table grape of exceptional quality – over the years, the farm has diversified while giving the vines time to take root. Today, they produce 3 varieties of grapes, which will be offered according to their seasonality starting in August.
Jess's Juice Remedies is a local cold press juice company that seeks to heal and nurture its customers by creating effective fruit & veggie combinations using the highest quality of organic and fresh ingredients.
Maru Baked Goods is a result of the encounter between two extremes creating Japanese-inspired pastries with a Brazilian touch. Maru is the launch of an experiment but, above all, a flavourful celebration of cultural diversity.
The Café-Marché Petite-Bourgogne
Opening hours
10 am – 1pm
1845 Rue Saint-Jacques

The following Saturdays:
July 8, 22
August 5, 19
September 2, 16
The Café-Marché Petite-Bourgogne seeks to make fresh produce affordable to neighbourhood residents while encouraging local growers. The Santropol Roulant Farm collaborates with the Café-Marché Petite-Bourgogne, to sell low-cost vegetables during the peak summer months.
In the absence of a major grocery store within close proximity, the neighbourhood is considered to be what some have termed a food desert. Others have challenged the use of such terminology arguing that food security and food justice go hand and hand with economic justice and that local residents must derive benefit from the money they spend besides just trading money for food. Community driven initiatives are thus the favoured solution.