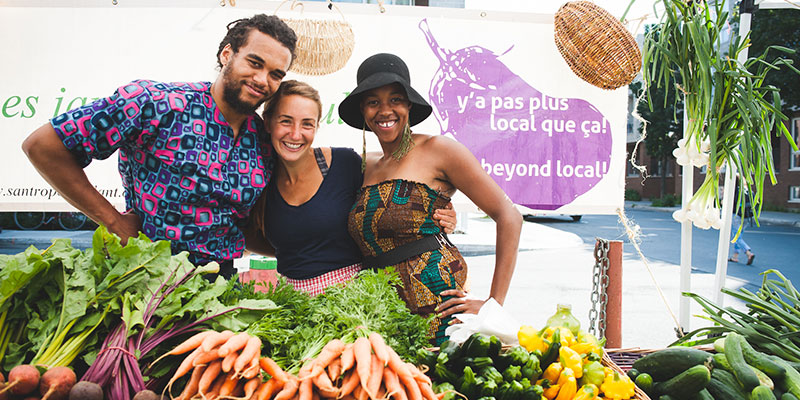 Santropol Roulant's Market
Opening hours 2017
June 13th to October 26th
Tuesdays and Thursdays 4-7 pm

From June until mid-October, you'll find us across from the Roulant at the corner of Roy and Coloniale selling organic vegetables from our peri-urban farm in Senneville, as well as from our two urban gardens!
We offer a selection of fresh Roulant produce, bread and baked goods, an ever changing selection of home-made preserves, and quality meats, including many organic options, from our friends at the adjacent Fernando's Gibier and Volaille meat shop. This is also the pickup point for your fresh organic baskets.
Low-income market-goers can choose to buy a $10 punch card worth $20 in fruits and vegetables. Every time a dollar is spent at the market, a hole is punched in their card.
Little Burgundy Citizen's Market
Opening hours
To be confirmed

The Little Burgundy Citizen's Market seeks to make fresh produce affordable to neighbourhood residents, while encouraging local growers. In the absence of a major grocery store within close proximity, the neighbourhood is considered to be what some have termed a food desert. Others have challenged the use of such terminology arguing that food security and food justice go hand and hand with economic justice and that local residents must derive benefit from the money they spend beside just trading money for food. Community driven initiatives are thus the favoured solution.
We participate in the Citizen's Market, and sell low-cost vegetables during the peak summer months.