Community Farm Day happened on Saturday, August 25th! 
Visit in the field
One of the main goals of this event was to introduce the world of peri-urban agriculture to our community.
During Community Farm Day, it was possible to discover Santropol Roulant's farm and talk with the farmers, but also learn about the other farm projects surrounding us, such as the USC Canada's seed conservation project and tropical vegetable production with Hamidou.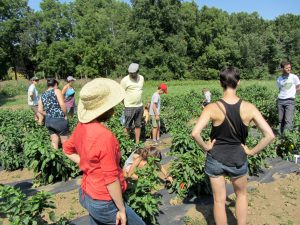 A unifying picnic
When on a local small-scale organic farm, there are of course lots of fresh vegetables!
We had a delicious potluck style lunch surrounded by the beautiful environment of our farmland, and shared several salads containing organic vegetables! The end of the meal was spent melodiously under the sweet magical music of harpist, Marie Hamilton.

A variety of activities
After the tasty musical lunch, a range of activities was offered to the on-site visitors:     
A small market consisting of our freshly harvested organic tomatoes, garlic and basil were on sale, along with our precious honey to be tasted and a bundle of beautiful sunflowers to give away!     

A screen-printing kiosk available to anyone who brought their own piece of fabric, of a food accessibility cycle logo created by our urban agriculture intern, Maya.     

A workshop of flower bouquets, which everyone got to bring home as a sweet souvenir.     

The children's corner consisted of making stamps from potatoes!  

And finally, a net volleyball was installed for those who wanted to enjoy the land and fresh air to move a bit!
A huge thank you !!
Thank you to the wonderful farm team for welcoming us to your workplace!
Thanks to harpist Marie Hamilton for your bewitching music.
Also, thank you to USC Canada and Hamidou for a tour of their respective projects and to Todd Stewart for donating the screen-printing equipment!