Have you seen our huge tomato and garlic sale? It's that time of the year again to start preserving and canning your extra produce. Why not try this delicious mild salsa by Ricardo Cuisine that will last you all year?
Make sure to fill out this form to receive your garlic and/or this form to receive your tomatoes! The pick-up location is on Thursdays at the Farmer's market between 4:00pm and 7:00pm, at our office on 111 Roy East.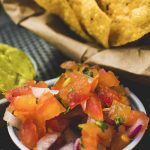 Mild Salsa
Total Time
1
hour
25
minutes
Ingredients
2

tbsp

cornstarch

1/3

cup

lime juice

4 1/2

lb

ripe tomatoes

coarsely chopped

1

can

tomatillos

drained and quartered

1

spanish onion

chopped

4

coloured bell peppers

seeded and finely diced

1

green bell pepper

seeded and finelly diced

6

tbsp

jalapeno peppers

chopped

2

garlic cloves

chopped

1

can

tomato paste

3/4

cup

white vinegar

1

tbsp

brown sugar

1

tbsp

coarse pickling salt

1

tbsp

chipotle sauce

1

tbsp

mild paprika
Instructions
Prepare the jars and lids in boiling water.

In a small bowl, dissolve the cornstarch in 2 tbsp (30 ml) of the lime juice. Set aside.

In a large pot, combine the remaining ingredients. Bring to a boil and simmer over medium heat for 25 minutes, stirring a few times. Add the cornstarch mixture and continue cooking for 2 minutes or until the mixture thickens slightly. Adjust the seasoning.

Spoon the salsa into the hot jars, leaving 1 inch (2.5 cm) of space at the top. Remove air bubbles with a non-metallic utensil and wipe the rim of the jar with a clean cloth.

Centre the lids (discs) on the jars and screw the rings down until the point of resistance, then tighten another eighth-turn, without forcing.

Place the jars upright on the canning rack in the pot of hot water. Make sure the jars are covered by at least 1 inch (2.5 cm) of water. Cover. Bring to a boil over high heat. Process for 15 minutes from the moment the water starts to boil.

Remove the jars from the water.
Recipe Notes
Canned tomatillos can be found in the Mexican products section in some grocery stores. You can also find fresh tomatillos in some public markets when they're in season, from August to October. You will need 2 cups, coarsely chopped like the tomatoes.