From the Plateau to Senneville, the first dusting of snow is settling over once thriving gardens and fields. Snowflakes cover the young trees that we planted this summer as part of the biodiversity project, blanket the soil from which lettuce, squash, and beets were harvested just a few weeks ago, and drift alongside the courageous Meals-on- Wheels volunteers on their way to the front doors of fellow Montrealers.
The silence settles peacefully in our gardens, but screams the urgency to plan for 2023.
No rest for the weary
There is no winter break for the Roulant's farmers. Harvest plans need to be prepared for the new year, seed orders placed, broken things repaired, and funding applications written to guarantee essential salaries.

Community workers are likewise offered little respite from winter. The urgency of social service can't wait for innovative farm networks, like the one we're engaged with this year, to provide healthy equitable food to everyone.
The Meals-on-Wheels and the distribution of free frozen meals must roll on.
From the backburner to the front
Achieving balance between social service and social change is our greatest challenge. On the one hand, we have made financial decisions that allow us to move our projects forward, despite the squeeze this puts on our budget. This year, we welcomed Adrienne in a new permanent position dedicated to the Agroeducational Centre and the overall accessibility of our agriculture programming.
On the other, we must meet the needs of the community that skyrocketed after 2020. We currently have the capacity to accept only 23% of the Meals-on-Wheels service requests we receive. The volume of requests has increased by 15% in 2022.
These figures are revealing and worrying.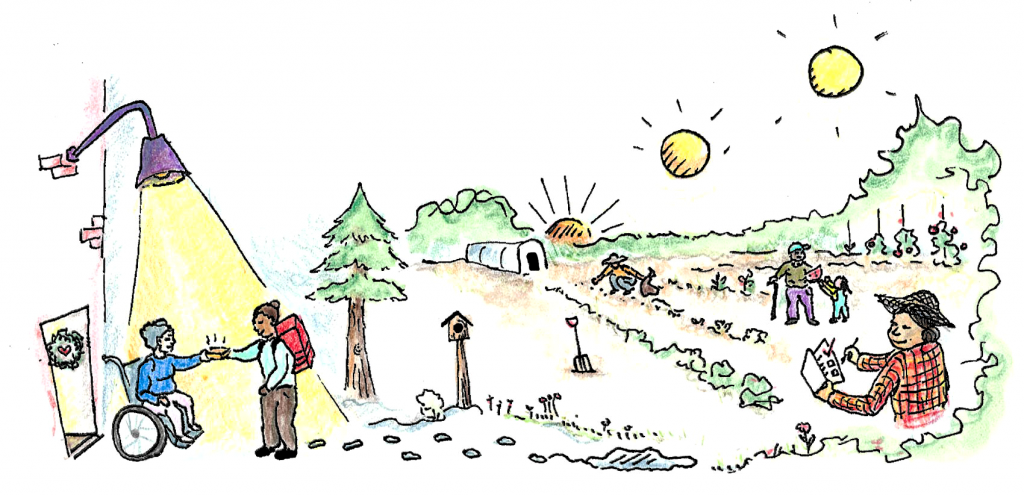 We should never settle for either-or
Now, more than ever, individuals in our community living in financial precarity are having to choose between what is healthy and what is inexpensive, as inflation impacts their ability to age with grace at home.
It's a heartbreaking choice.
"Without your help, I would be eating canned food and would have lost my faith in the community. It's hard to explain – the energy that your volunteers exude is so genuinely positive and makes me feel deeply cared for. You keep me alive."
– Katherine Patelaki, client of the Meals-on-Wheels
Our efforts to both respond to an immediate need and plan for the future will only be fruitful if, together as a community, we maintain our immense commitment to the Roulant's work and actions. We are asking you today, as an important partner in this vision, for an increased financial contribution this year to our essential programs and ambitious social change projects.
Because we never want to settle for either-or.
As always, thank you for your care for the Roulant community.
Wishing you a happy winter season,

Melanie & Pier
Illustrations : Melanie Godel