Hey Roulant Community! I'm Guillaume Pratte. I've been a volunteer at the Roulant for over ten years, and today I'd like to introduce you to the Mycollective's fantastic team and delve into their mission to grow mushrooms at Santropol Roulant's farm in Senneville in 2022.
It was through a permaculture lens that I first discovered mushrooms. These incredible organisms line the forest, some acting as decomposers and contributing to the formation of humus which is essential to plant life, and others bringing tree roots their water and minerals in exchange for sugars. It's a fascinating universe!
I joined the Mycollective in the midst of the pandemic in the spring of 2021. The collective was far from robust: past efforts to grow mushrooms in the basement of the Roulant had mostly failed in large part because the mushroom culture was regularly contaminated by the lack of ventilation in the basement. Fast forward to Spring of 2022 when we were given the golden opportunity to grow mushrooms at the Roulant farm in Senneville!
The technique for growing mushrooms at the farm is relatively simple. First, we chose to produce elm oyster mushrooms which are edible saprophytic mushrooms that decompose organic matter like wood. We were motivated by having heard success stories from other farmers in Québec. We procured organic mycelium (the farm is certified organic after all!), and the collective's lab-savvy members (namely Sebastian, Don, and Carlos) produced bags of culture for the project.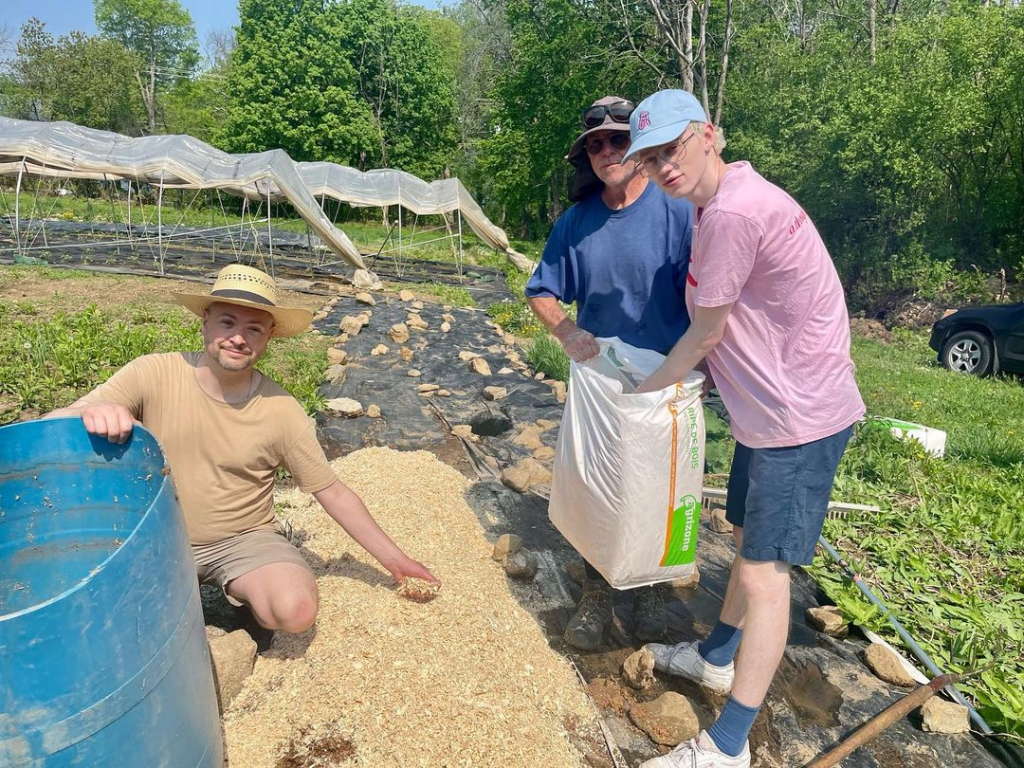 At Santropol Roulant's Community Farm Day at the end of May, the Mycollective set up the rows of culture for the mushrooms with the help of community members visiting the farm. After establishing the rows of culture, it was time to wait. Starting in July, visits to the farm to check up on the culture increased in frequency. Things were looking dire: there was no smell of fungus in the substrate (the inoculated organic material) and no mycelium (white filaments) was visible. We thought that the project had failed, so the Mycollective decided to set up a second row of culture elsewhere on the farm in late July.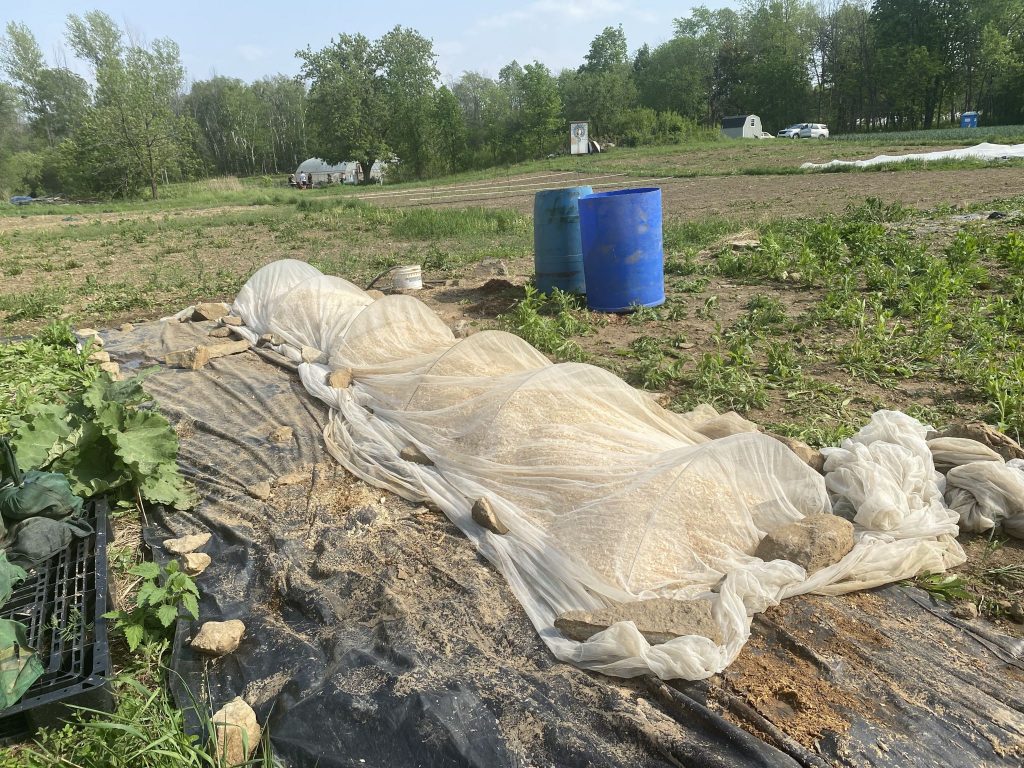 As it turns out, mycelium is a more resilient organism than we had assumed! To our surprise, in mid-August many mushrooms appeared on the row that we thought had failed. We harvested 870g (the equivalent of eight large mushrooms) and brought them to the Roulant that same day. Since then, the farm crew and the Mycollective members have harvested over 14kg of mushrooms from the farm. The outgoing kitchen manager, Aaron, shared in the Mycollective's excitement. The mushrooms have since been incorporated into food made for the Meals-on-Wheels clients!
What's next? The Mycollective will continue the farm project next year, but the Roulant is thinking big and we have a secret project that we hope to unveil in the summer of 2023. Stay tuned!