For those who have been spending time in the lounge at 111 Roy Street East, you may have noticed the seed library, and perhaps even noticed the most recent facelift. Yolie (one of our already-missed 2023 gardens facilitators) made it their end-of-season goal to revamp the seed library in order to make it easier to interact with in order to allow more people to participate in the time-honoured tradition of seed swapping. In sharing it with the wider community, we can make growing and sharing beautiful local plant species more accessible to all! Ever wondered what it was and how you could interact with it?
Seeds of Change
Historically, seed libraries have served as essential catalogues of heirloom and native plant seeds, preserving traditional agricultural practices and fostering a sense of community through sharing and exchange.
Our seed library, which has been set up for quite a few years now, is not just a place to borrow seeds; it is a hub of inspiration and knowledge. It serves as a reminder that every seed planted is a small act of conservation and a step toward a greener, more sustainable future.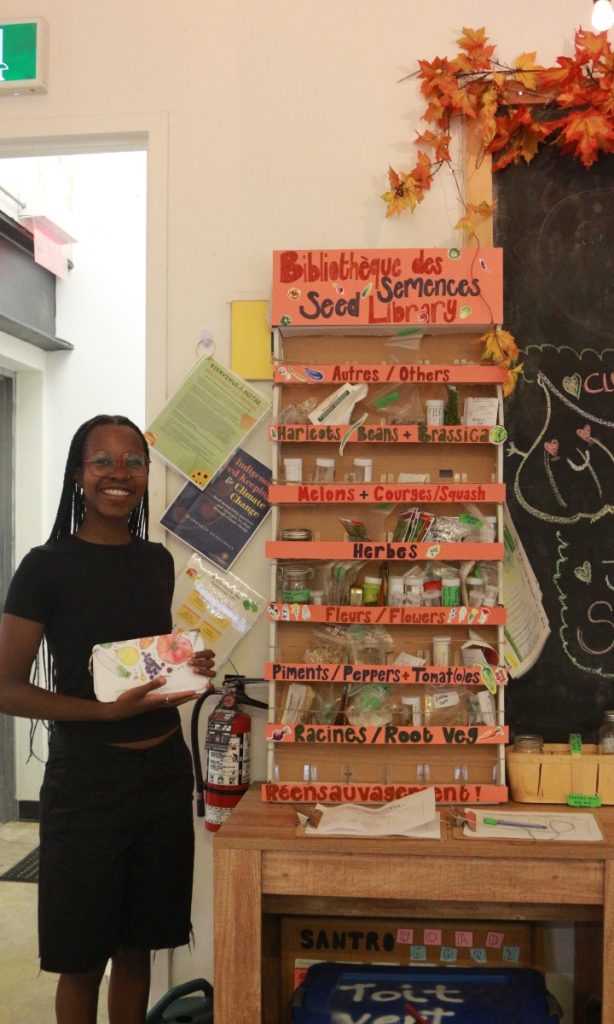 What's New?
Seed diversity: Our revamped library has a specific shelf for native plants, with the aim of rewilding our communities and promoting diversity of local flora.
Want to know about Quebec's native plants? Check out this resource.

New step-by-step documentation: New readily accessible documentation will help you interact with the seed library in order to donate your own seeds or take some home to plant them in your own garden or neighbourhood. We are of course open to suggestions in order to make the process more convenient and accessible.

Community Engagement: The seed library remains free, with no commitment. We simply ask that you fill out the Borrowing Record to help us keep track of the seed stock.
Growing Together
As we celebrate this rejuvenated space, let us also celebrate our collective commitment to nurturing our environment. By embracing the principles of seed diversity, education, and community engagement, we are sowing the seeds of change that will flourish for generations to come. Together, we can continue to cultivate a healthier, more harmonious relationship with nature and ensure a bountiful harvest for the future.