Meet Marthe and Marguerite
As the city is gently covered in its winter coat, we wish to share the daily reality of two meals-on-wheels clients. These two stories are examples of the many narratives that we hear each day, and highlight the impact that you can have in meeting the essential needs of those living with a loss of autonomy and in social isolation.
Marguerite, Meals-on-Wheels client, 88 years old, video in English

Marthe, Meals-on-Wheels client, 91 years old, video in French

---
Community in action
Over the last 20 years, Santropol Roulant has delivered over 500,000 meals to clients like Marthe and Marguerite. Rain or shine, through snow or icy wind, on a regular week day or a holiday, meals-on-wheels clients know that, thanks to your generous donations, they will have their essential needs met with nutritious food and meaningful exchanges.
Support
This winter, we invite you to support and contribute to the home-care needs of vulnerable Montrealers!

---
Donate online through CanadaHelps
Send a cheque to 111 Roy East, Montreal QC, H2W 1M1 (please include your address, phone # and email)
Come by to drop off your donation at our office. We'd be happy to thank you in person!
---
Your Donation Of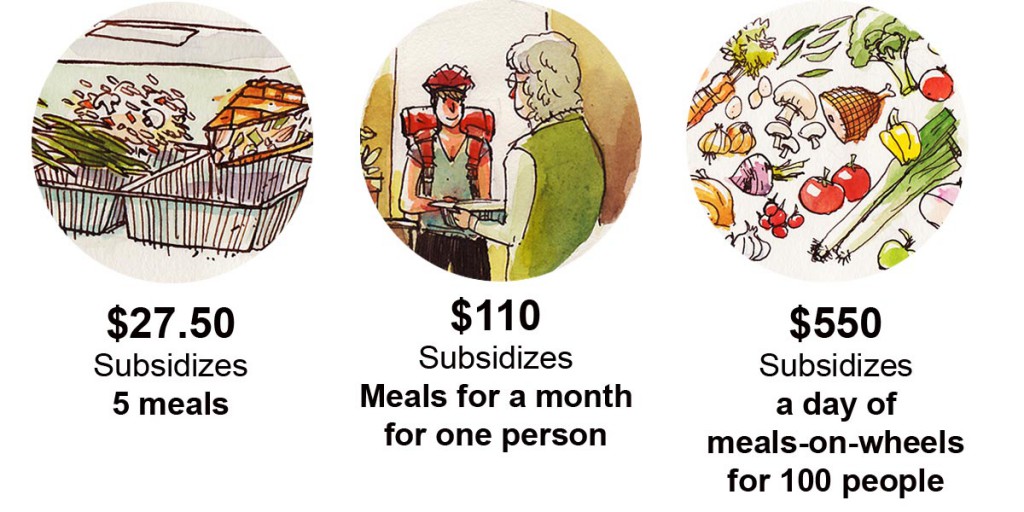 With much gratitude, the Roulant team wishes you a happy holiday season!
P.S. Thank you for helping our clients receive healthy meals and warm smiles! To receive a tax credit for 2015, please send your gift before December 31st.