As the need in the community for an accessible, affordable, nutritious food service increased, we looked for ways to scale up the Meals-on-Wheels program to serve more meals than ever before, all while ensuring the safety of clients and volunteers through physical distance and increased sanitary measures. One solution was to split up our delivery routes. Suddenly, our seven delivery zones turned into 14. Four of these routes, in Côte-des-Neiges and Notre-Dame-de-Grâce, require access by vehicles, while the Roulant only owns two cars.
In August, we reached out to the community to help fill the gap. Rachel, a former Roulant volunteer and past leader of the McGill Students for Santropol Roulant club, reached out on behalf of Turo Canada, a peer-to-peer car sharing marketplace. Could Turo help support the Roulant's Meals-on-Wheels program? The answer was a resounding 'yes'!
Thanks to Turo, Santropol Roulant now has a third car to continue delivering meals 5 days a week, 52 weeks of the year at a 30% increased capacity, an increase of 4,239 meals as of October 1st over the same time last year.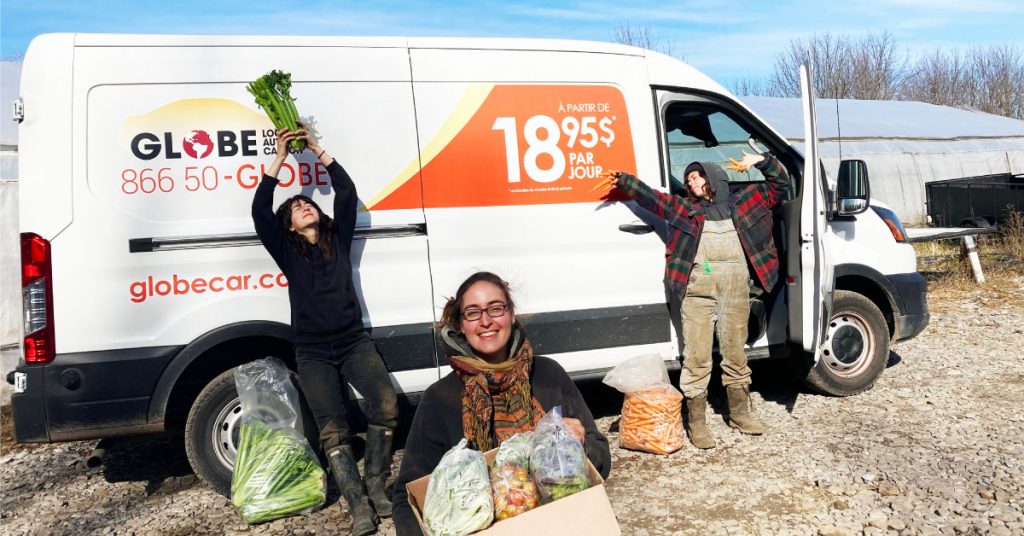 From Farm (to doorstep) To Table
During the first wave of the outbreak at the start of the agricultural season, we knew we had to adapt our organic basket subscription model to ensure continued access to local, organic produce in the safest way possible. Could we develop a delivery model that would allow us to ensure physical distancing, continue providing fresh produce to people increasingly confined at home, and serve even more people than ever before?
We reached out to longtime partners Globe Car & Truck Rental to find out how we could collaborate, and they responded with enthusiasm. Globe was able to provide us with one six-month van rental at a deep discount. And when we quickly realized that our needs were even greater than initially believed? They helped us secure a second van for the season.
For the first time in Roulant history, all organic baskets were delivered to the doors of more people than ever before, every Thursday from June to October. The two vans from Globe were an essential link between the fields in Senneville and the doorsteps of the Roulant community, up until the final delivery day of the season last week.
Grow Your Impact
Are you a business owner or employee looking for ways to increase your company's impact in your community? Whether making a financial contribution, participating in meaningful team-building activities, or embedding your values at all levels of your organization, contact Melanie to get the conversation started today!
Thanks to the engagement of important corporate partners and the care and attention of all the individuals who make up the Roulant community, we are blazing new trails and finding innovative solutions to limitations imposed by new circumstances. We are emerging with stronger community links and a deeper impact.