Join the Roulant Roots! Become a monthly donor and nourish your community all year long!
Stabilizing, sustaining and nourishing, the Roulant Roots are a foundation upon which we can grow and flourish. This spring, we ask you to nourish your community by becoming a monthly donor!
A monthly contribution to the Roulant creates sustainability for the organization and yourself. You can invest in your personal impact and engagement, as well as in the future of the Roulant.
---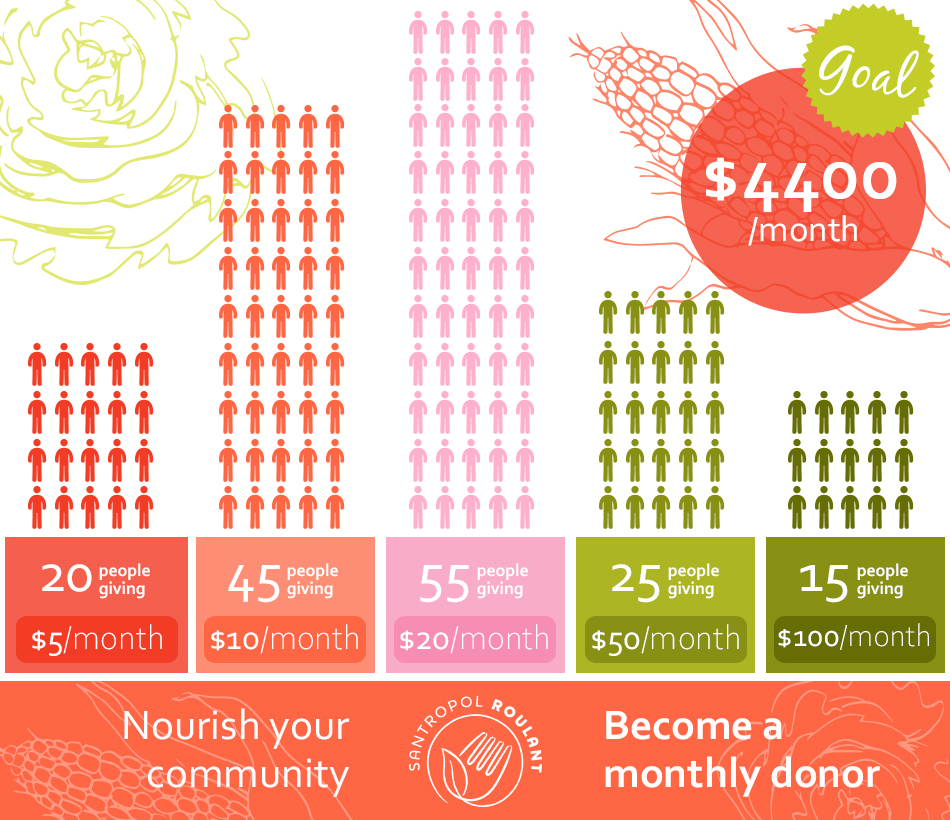 Help us reach our goal!
As you can see, no amount is too small to make a big difference. Every bit counts and creates stability and sustainability for the Roulant.
Did You Know
Over 200,000 people in greater Montreal experience food insecurity
36% of seniors in Montreal live alone and are at higher risk of malnourishment and social isolation
Help us offer Montrealers good food and human contact!
Every week, we deliver 500+ meals to individuals living with a loss of autonomy with the help of 1400 volunteers a year who grow veggies in our gardens, cook food in our kitchen and deliver meals to our clients' doorsteps.
---
$1 / day = 5 fresh meals
for an individual living with a loss of autonomy, filled with veggies we grow, and delivered to the client's doorstep by caring volunteers.
THREE reasons we love monthly donors
Whether you can afford $5/month or $100/month, your support means the world to us. Monthly gifts allow us to:
Plan ahead! Steady revenue allows us to plan activities all year long.
Respond to emergencies, like a bad harvest or a broken fridge.
Diminish our fundraising costs, which allows us to focus on our work.
This spring, join the Roulant Roots, our monthly giving program and build a strong and well-fed community.
Words from our monthly donors
"Since realizing just how simple monthly giving is for my budget and how much it helps the Roulant, I feel like I'm accomplishing two great things at once!"
Valérie, monthly donor
Updating your monthly donation
This is done through the CanadaHelps website. Follow these steps:
Once logged into your Donor Account, click "Your Monthly Donations" tab
You will see a list of all the monthly donations you have set up with CanadaHelps. To edit or cancel an existing monthly donation, click the "Change" button on the same row as the charity name
Once clicked, you will see all the details of that monthly donation. You can change any of the details, including the amount or recurrence date. To cancel your monthly donation, click the button at the bottom right of the page that says "Stop this payment"
Thank you for your ongoing support! ♥