We are happy to bring you our eighth recipe in the new series Recipes from the Roulant! These monthly recipes allow you to get to know the different activities of our organization.
With this month's Tomato Salsa recipe, we are highlighting our food preservation program and kicking off our weekly food preservation shifts!
Come join Talia and Karine, our kitchen co-managers, and help the Roulant preserve the abundance from our farm while learning how to make preserves yourselves. To find out the schedule or sign up for shifts call us or stop by the Roulant!
Don't forget that you can pick up many of the ingredients needed for this recipe at our twice-weekly farmers markets.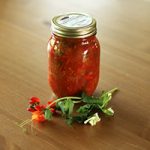 Tomato Salsa
Ingredients
5

lbs

tomatoes

2

lbs

chili peppers

1

lb

onions

1

cup

vinegar

(5% acetic acid)

3

tsp

salt

1

tbsp

cumin powder

1/2

tsp

pepper
Instructions
Use a mixture of hot and mild peppers, if desired. Jalapeño peppers and mild green peppers do not need to be peeled. Core and chop tomatoes. Combine tomatoes with chopped peppers, onions, and remaining ingredients in a saucepan.


Heat to boiling, reduce heat and simmer 10 minutes, stirring occasionally.

Ladle hot salsa into clean, hot pint jars, leaving 1⁄2 inch headspace. Remove air bubbles and adjust headspace if needed. Wipe jar rims and cap with properly pre-treated lids.

Process in a boiling water canner. (See state elevation map on inside front cover or refer to the last paragraph of the following recipe to determine processing time.)
Recipe Notes
Process time in a boiling water canner for hot pack pint jars at the following elevations: 0-1,000 feet: 15 minutes, 1,001-6,000 feet: 20 minutes